It's time for the third Get Your Chef On challenge, and this edition is all about peanut butter! To be honest, time sort of snuck up on me. I had grand illusions of baking, but the weather never cooled down enough to turn on the oven, so this is sort of an un-recipe (but pretty darn cute if you ask me).
All you need to make these are apples, peanut butter, a small cookie/fondant cutter (less than an inch across), and a piping bag/tip. I made hearts (because that's the cutter I had), but you could absolutely find a cutter that matches your theme.
Slice the apples thin. Since you'll be cutting shapes out of the slices, you don't have to worry about coring the apple at this point.
Cut your shapes out. I used this little bitty fondant cutter for most of them; on some of the bigger slices I used a bigger heart cutter, but I like the tiny ones better.
Pipe a dot of peanut butter onto each apple heart. I wrapped the PB in plastic wrap before putting it in my piping bag to make clean up easy.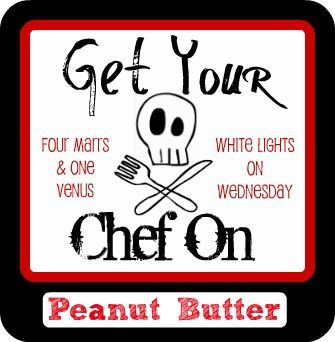 I link up to
these parties
.