This is a very simple and fast chili recipe that will give you a hearty dinner on a day when you don't have much time to spend preparing dinner. Simply brown the beef, onion, and garlic, then add everything else to the slow cooker in the morning; at the end of the day all you have to do is dish it out and sprinkle some cheese on top.
Ingredients
Rub:
2 tbs chili powder
1 tsp chipotle powder (use more or less depending on how spicy you like things)
1 tsp garlic powder
1 tsp ground cumin
1 tsp salt
1.5 lbs ground beef
2 cans (15 oz each) pinto beans, with juice
2 cans (15 oz each) diced tomatoes, with juice
2 bouillon beef cubes
4 cloves garlic, minced
Instructions
1) Brown the beef, onions, and garlic with all of the spice rub.
2) Add all of the ingredients to the crock pot, and stir together.
3) Cook on low 4 to 8 hours. Serve with grated cheese, green onion, sour cream, bread, and/or anything else that you love with your chili.
Linked up at: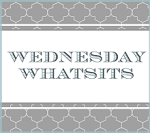 Dwell on Joy